Events for May 29, 2017
Day Navigation
10:00 am
Join us at the Children's Museum in remembrance and patriotism this Memorial Day. Star-Spangled Wind Chime Celebrate the American flag in honor of Memorial Day by designing your own patriotic wind chime. Monday, May 29, 2017 | 10am & 1pm | Ages 5 & younger | Drop-in Ribbons of Honor: Making Service Ribbons Service Ribbons […]
Find out more »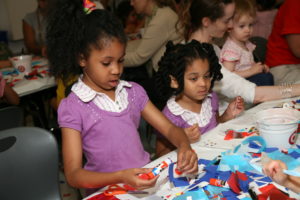 Celebrate the American flag in honor of Memorial Day by designing your own patriotic wind chime.
Find out more »
11:00 am
Did you know our clean water and the earth's forests are connected? Well, Ecologists do! These scientists understand the important relationship between healthy forests and clean water. Join us in the Dynamic H2O Science Lab to help us construct a natural filtration system similar to the forests in Upstate New York to clean our water.
Find out more »
Service Ribbons are a very special honor in the U.S. The ribbons represent a person's accomplishments from their time in the Armed Forces. Learn about these honors and design your very own ribbons to wear in support of our people in the various sectors of the Armed Forces.
Find out more »
Sing, move your body and use your listening ears to hear special stories.
Find out more »
+ Export Events