Past Exhibitions
America to Zanzibar: Muslim Cultures Near and Far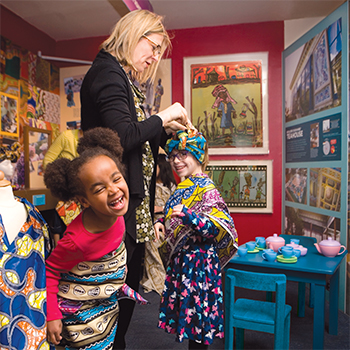 1st Floor
All Ages
February 13, 2016 - December 31, 2017
Travel the world in a single museum visit!
Enjoy innovative hands-on experiences and discover fascinating objects, images and information from over 50 countries. Children can explore ancient trade routes on a two story Indian Ocean dhow (boat) or on a camel. They'll thrill to the excitement of a global marketplace as they pretend to buy, sell and trade fruit, fish, spice, ceramic, textiles, and rugs. The exhibit environment is rich with art, architecture and design elements from across the globe. Visitors will marvel at a 3D exploration of mosque architecture from the Maldives to China. Original works by emerging American Muslim artists join traditional art forms including intricately designed tiles, ornate ceramics, and complex patterned rugs. There's even an interactive replica/interpretation of a Pakistani truck for children to decorate.
Families can also compose music using an app featuring the rebana, tabla, kora, oud, ney, and ghijak, listen to stories and view objects shared by local America Muslim families and even learn how to write and say "My name is …" in 21 languages.
Major support has been provided by:
National Endowment for the Humanities, Doris Duke Foundation for Islamic Art, MetLife Foundation, Institute of Museum and Library Services – a federal agency, Robert Sterling Clark Foundation, Open Society Foundations, National Endowment for the Arts, Children's Museum of Manhattan Board of Directors and scores of individuals.
Additional support provided by:
The El-Hibri Foundation, The Gladys Krieble Delmas Foundation, Goldman Sach Gives, National Endowment for the Arts, Sultan Qaboos Cultural Center,  The Violet Jabara Charitable Trust. Citywide program support provided by the New York City Council under the leadership of Speaker Mark-Viverito
Advisors
The Children's Museum of Manhattan is grateful to the international advisors and partners who guided this project over the past five years. We thank the following organizations for their wisdom, deep thoughts, and partnership.
30 Mosques in 30 Days, Aga Khan Museum, Al Amana Centre, Albanian Institute New York, Arab American Association of New York, Auburn Theological Seminary, BoomGen Studios, Columbia University, Fordham University, The Halal Guys, Honest Chops, Indian Ocean World Centre, The Interfaith Center of New York, International Museum of Women, Jewish Community Relations Council, Jewish Community Center Manhattan, Malcolm Shabazz Harlem Market, Manhattan College, Marble Collegiate Church, The Metropolitan Museum of Art, Middle Collegiate Church, MIIM Designs, Muslim Community Network, New York City Government, NYC Office of the Mayor, New York Public Library – Schomburg Center for Research in Black Culture, Pakistan Mission to the United Nations, Shaoor Foundation for Education and Awareness, Sikh Coalition, Tarek Atrissi Design, Temple University, Unity Productions Foundation, University of Pennsylvania
Thank you all!
CMOM is currently seeking funding for the national tour of this ground-breaking exhibition. Interested sponsors and funders may view a presentation here.  Or, please contact Melissa De Cesare, 212-721-1223 x235.
I Approve This Message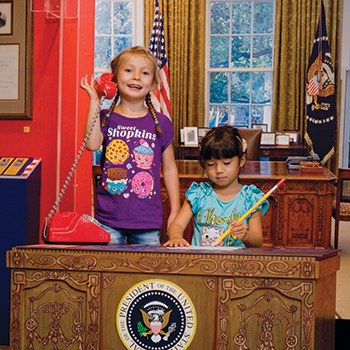 October - December 2016
Ages 2 and up
History! Inspiration! The excitement of the 2016 presidential election cycle!  I Approve This Message offers children a clever introduction to our American heritage with a 40-foot display of framed historical documents complete with authentic autographs from every American president and even a few first ladies! These notable objects are part of the private collection of the late Fred B. Tarter.
In addition to learning about our electoral process, children can
Feel the power of the Oval Office, and enjoy a photo-op while sitting at a pretend-play presidential desk and signing documents similar to those featured in the display
Add a signature to a wall-hanging for potential future presidents
Cast a vote in a faux voting booth
Participate in presidential-related scavenger hunts
Make a snazzy slogan button to promote their candidacy
The exhibit features presidential profiles and fascinating factoids, brought to life by the charming illustrations of Mike Lowery, from Ken Jenning's Junior Genius Guides: U.S. Presidents (used with the permission of Little Simon – an imprint of Simon and Schuster Children's Publishing Division).
Renowned artist Leah Tinari's President Project series, contemporary presidential portraits with a splash of color and whimsy, will also be on display for the first time ever. Visitors may recognize her work from the illustrations in the popular children's book, The Magical Fantastical Fridge (Penguin Random House – Dial Books).
The Children's Museum would like to acknowledge the generosity of Tarter Family in sharing the extraordinary collection of the late Fred B. Tarter, and of Leah Tinari for sharing her artwork, with the children and families of New York City.
Building Wonderlands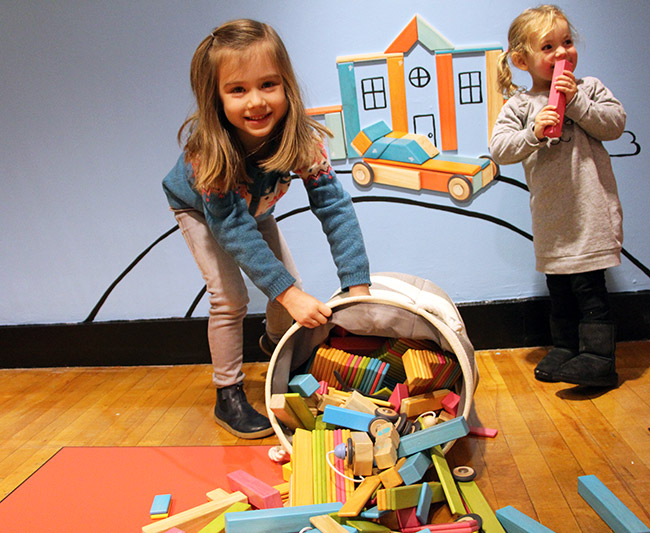 Open May 26 – June 25, 2017
All ages
Building Wonderlands returns! This popular interactive installation of more than 5,000 Tegu Magnetic Wooden Blocks, enables children of all ages and their families to construct colorful pretend worlds up, down, sideways and around!
With a little imagination, the possibilities are endless for visitors to Building Wonderlands. Children can craft spaceships, snowflakes or castles, or even build a wondrous New York City of the future complete with towers, skyscrapers and bridges all while exploring elementary principles of construction and physics.
Tegu Blocks are unique not just because they are magnetic but because of the play value the magnets add. With Tegu, children can build beyond the traditional constraints of gravity; they can build out, not just up! Also, working with the polarity of the magnets on the fly is a fun challenge, generating more critical thinking and educational opportunities than you might expect.
Children will also be able to play with KEVA planks, another popular building toy.
Jazzed! The Changing Beat of 125th Street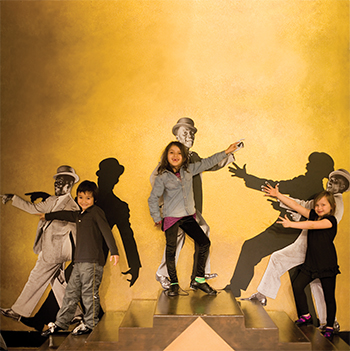 May – December 2014
All ages
Get jazzed at CMOM! Find your own beat as you tap, snap, clap and stomp your way through. Live music, hands-on art workshops and an immersive environment celebrates the rich history and lasting legacy of jazz in America. This interactive exhibition and program series features rarely seen images, archival footage, and original jazz artifacts.
Enter a world of big bands, intimate jazz clubs and shimmering stages . . .
SCAT with Ella! Delight at the sounds of your favorite nursery rhymes being sung by the great Ella Fitzgerald, then sing along at the 1930's pretend-play microphone.
TAP like Bojangles! Marvel at the skill of iconic tap dancer Bill "Bojangles" Robinson doing his famous staircase dance in rarely seen archival footage, then make your own tap shoes and choreograph a unique routine on the Bojangles Tap Staircase.
SWING with Duke! Meet Duke Ellington, legendary bandleader, pianist and composer through artifacts and photos from his band. Experience a contemporary jazz band at a large touchscreen interactive that encourages you to be the bandleader by choosing which musician and instrument to feature. And make your own instrument to take home!
The Children's Museum partnered with The National Jazz Museum in Harlem to develop this exhibition.
Monkey King: A Story from China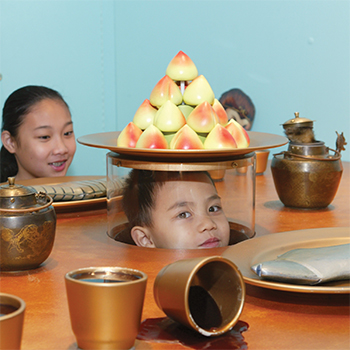 January – June 9, 2013
Ages 4 – 12 years
(On permanent view in Hawaii beginning Fall 2013)
Children get into trouble with the mischievous, yet brave and loyal Monkey King in this epic Chinese adventure tale. Visitors discover the wonders of traditional and modern China as they join Monkey to fly in the clouds, cause havoc in the Heavenly Palace and battle the Bull Demon.
This exhibit was created by the Children's Museum of Manhattan as part of the Asian Exhibit Initiative, funded by the Freeman Foundation and administered by the Association of Children's Museums.
Gods, Myths and Mortals: Discover Ancient Greece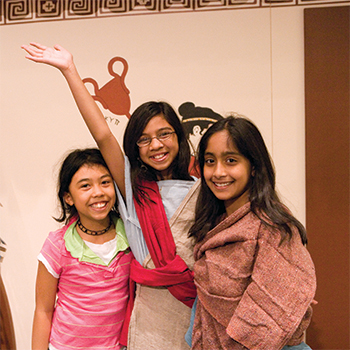 May 2006 – October 2011
Ages 6 years and older
Learn about the impact of ancient Greece on the modern world. Find the Greek roots of everyday words, build an ancient temple, and investigate the Antikythera Mechanism, a mysterious machine from approximately ca. 150 BC widely considered to be the world's first computer. Follow the story of Odysseus in The Odyssey, who sang with the Sirens and climbed into a large Trojan horse. Arm-wrestle an ancient Greek athlete using a mechanical arm or challenge an animatronic Aristotle to a game of "Twenty Questions." Learn about the heroism of ancient Greek women in myth and daily life as you engage in a virtual weaving contest with goddess Athena, weave on a fixed loom or discover the steps of textile production from sheep shearing to weaving.
Sponsored in New York by American Express; Media sponsor WNYC.
The Art of Andy Warhol
November 2005–May 2006
Ages 4 and older
Art legend Andy Warhol created an exhibit for children in the early 1980's in Zurich called "Paintings for Children." Families visiting CMOM viewed a recreation of this exhibit that included a selection of paintings depicting animals and tin toys, and six original screenprints from Warhol's Myths series, featuring personalities such as Uncle Sam and Superman. Developed to inspire creativity and help children understand how images communicate ideas, values and beliefs, the exhibit included silk-screening workstations and a digital photography kiosk, giving families opportunities for an in-depth exploration of American cultural myths.
The Art of Andy Warhol was organized by the Andy Warhol Museum and the Children's Museum of Pittsburgh. Premiere New York Sponsor Fujifilm.
Sunday Morning Breakfast: the Art of Romare Bearden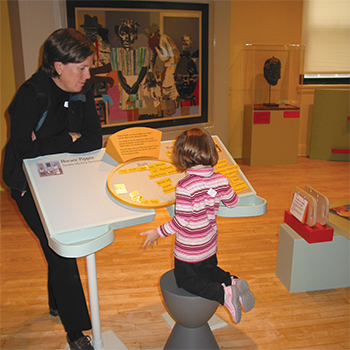 October 2004 – February 2005
Ages 4 and older
Visitors viewed Romare Bearden's original, vibrant work, Sunday Morning Breakfast and explored the relationship between visual art, storytelling and collage through a series of interactive games and looking activities. This exhibit was mounted in conjunction with a major Bearden retrospective at the Whitney Museum of Art and the Romare Bearden Homecoming Celebration (September 2004 – March 2005), a New York Citywide celebration honoring one of America's foremost artists.
Art Inside Out
October 2002 – May 2005
Ages 5 years & older
Art Inside Out was a breakthrough exhibit that literally invited children and their families to step into works by three great contemporary artists: Elizabeth Murray, William Wegman and Fred Wilson. CMOM worked with the artists to create an exhibit that combined over two-dozen original works and interactive multi-media displays into three playful, immersive environments. Art Inside Out exposed families to the working processes of artists and provided a welcoming entry point into New York's world of art and museums.
Good Grief!
October 2000
All ages
Fifty years of the funnies come alive with the art and artistry of cartoonist Charles Schulz! Good Grief at the Children's Museum invites you to step into the world of the Peanuts comic strip. Explore Schroeder's Piano, Snoopy's Doghouse, Woodstock's Nest and learn about all of your favorite Peanuts friends! Charlie Brown, Lucy, Linus, Snoopy and the gang will help visitors understand others, learn to empathize, and develop tolerance while having fun and navigating the tough road of childhood together.
Peanuts and the exhibit offer an entertaining multi-generational experience:
• Ages 2-6 play in the Land of Peanuts
• Ages 6-12 explore relationships and solve dilemmas
• Adults reflect on 5 decades of American culture through the eyes of Snoopy & Charlie Brown