Upcoming Exhibits
Building Wonderlands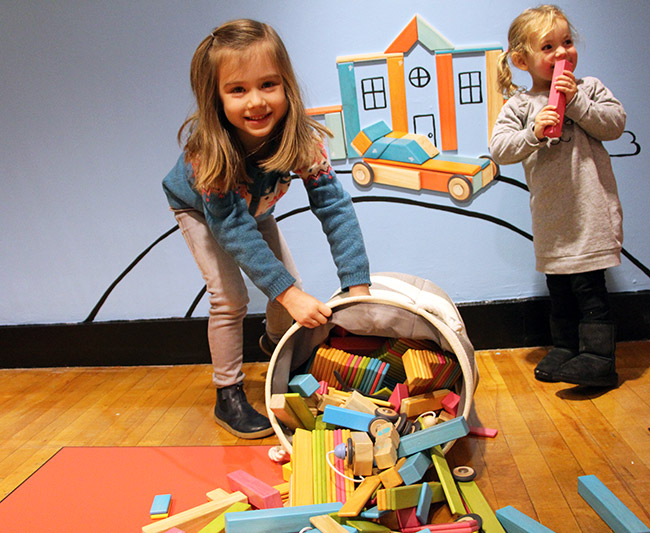 Open May 26 – June 25, 2017
All ages
Building Wonderlands returns! This popular interactive installation of more than 5,000 Tegu Magnetic Wooden Blocks, enables children of all ages and their families to construct colorful pretend worlds up, down, sideways and around!
With a little imagination, the possibilities are endless for visitors to Building Wonderlands. Children can craft spaceships, snowflakes or castles, or even build a wondrous New York City of the future complete with towers, skyscrapers and bridges all while exploring elementary principles of construction and physics.
Tegu Blocks are unique not just because they are magnetic but because of the play value the magnets add. With Tegu, children can build beyond the traditional constraints of gravity; they can build out, not just up! Also, working with the polarity of the magnets on the fly is a fun challenge, generating more critical thinking and educational opportunities than you might expect.
Children will also be able to play with KEVA planks, another popular building toy.
Let's Dance!
Opens July 1, 2017
All Ages
Bounce, glide or leap  to our exciting exhibition/dance space designed to introduce children and families to the delights of dance! Celebrate the beauty, spirit, and diversity of the form while learning about the important role dance can play in a child's world.
Explore dance from the streets of New York City and the world! Our Dance Portal, an interactive video installation, uses immersive technology to share the power of dance in its many forms and styles while inviting visitors to dance along. Select from prompts—see, do, or learn—to watch or dance along with world class dance companies.

Experiment with dancing in the colors and shadows projected onto a 'stage' by manipulating a child-friendly lighting box.

Be a choreographer. Learn the language of dance and create your own dance patterns using movable signs, engaging props, and fun costumes inspired by international dance styles.
Create the beats and rhythms for your own dance using authentic percussion instruments.
Generate new dance positions by manipulating colorful, poseable figures.
Take a break and read all about dance.
View

inspiring photographs that celebrate the energy, talent and diversity of New York City's Dance Parade and enjoy

 PS Dance!, a video about dance education in New York City's public schools.
Special dance programming and performances will complete this "moving" experience!
This exhibition is made possible with public funding from the Institute for Museum and Library Services,  the NYS Council for the Arts and the NYC Department of Cultural Affairs, with additional support from Jody and John Arnhold.  Generous in-kind donations have been made by Casio America, Inc., Drum Workshop, Inc., Harlequin Floors and Traveling Tutus.
The Children's Museum is also grateful for the support and insight provided by its Dance Advisory Board.